Classes
Feldenkrais Practitioner & Reiki Healer
During a typical class with Ruti you will use slow, gentle movements, similar to yoga while lying down on a mat or a carpet. During some classes, we might stand or sit in a chair. Classes generally last 30 to 60 minutes. Ruti teaches classes both online and in person.
Access to online Tuesday and Thursday morning Classes are available by registration for each class or as a recurring quarterly subscription. If you are unable to pay, Please contact Ruti regarding potential scholarship opportunities.
TO REGISTER, CLICK ON THE CLASS OR WORKSHOP IN THE CLASS LIST. To register for quarterly recurring membership for access to classes,

click here

.
In-person classes are now available at Marinwood Communitity Center in San Rafael. Classes are held Wednesday from 2:00 to 3:00PM.

If you're outside the local Marin County area or would like to practice with Ruti Gorel  in your home of office, our classes and sessions via Zoom are perfect – especially if you have a busy schedule and you'd like to reduce back, neck and shoulders or joint pain. Both our online and In-person classes will relieve stress and improve your everyday activities, the way you sit, stand, walk, run, bend, stretch up to reach a shelf, turn and do your workout.
Class Modalities
Ruti Gorel integrates several different modalities into her group and private lessons.
Feldenkrais:
The Feldenkrais Method is a system of movement education that aims to improve the quality and range of movement, increase flexibility and coordination, and enhance overall well-being. It was developed by Moshe Feldenkrais, an engineer and physicist who later became a Judo black belt and a renowned movement educator.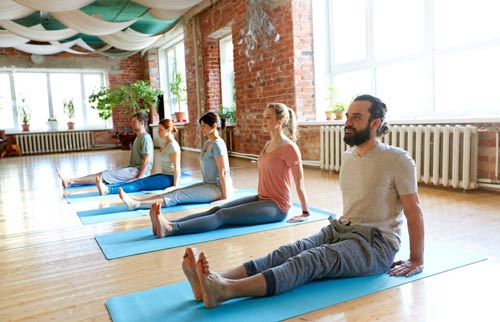 The Feldenkrais Method is based on the principle of neuroplasticity, which refers to the brain's ability to change and reorganize itself in response to new experiences. It uses gentle, non-invasive movements and self-awareness exercises to help individuals develop new neural connections and improve their movement patterns.
There are two main approaches within the Feldenkrais Method: Awareness Through Movement (ATM) and Functional Integration (FI). ATM consists of group classes where students are guided through a series of movements and encouraged to pay attention to their sensations, thoughts, and emotions. FI, on the other hand, is a one-on-one approach where the practitioner uses gentle touch and movement to help the student improve their movement patterns and develop new options for movement.
The Feldenkrais Method has been used to help individuals with a wide range of conditions, including chronic pain, neurological disorders, developmental delays, and performance-related issues in athletics and the arts. It is also used as a form of somatic therapy to promote relaxation, reduce stress and anxiety, and enhance overall well-being.
Bones for Life:
"Bones for Life" is a movement and a program created by Ruthy Alon, a former student of Moshe Feldenkrais, who developed the Feldenkrais Method. The program focuses on improving bone health and reducing the risk of osteoporosis through gentle, weight-bearing movements and exercises.
The program emphasizes the importance of proper alignment and weight distribution in order to improve bone density and prevent falls and fractures. It also includes specific exercises and movements that are designed to stimulate the bones and promote bone growth.
The Bones for Life program is intended for people of all ages, but particularly for those who are at risk for osteoporosis or who have already been diagnosed with the condition.
Anat Baniel Method:
The Anat Baniel Method (ABM) is a system of movement education and therapy that aims to help individuals improve their physical and cognitive abilities through gentle, non-invasive techniques. It was developed by Anat Baniel, a movement therapist who worked with children with special needs and adults with chronic pain.
ABM is based on the principles of neuroplasticity, which refers to the brain's ability to change and reorganize itself in response to new experiences. The method uses movement and awareness exercises to help individuals develop new neural pathways and connections in the brain, leading to improved movement, flexibility, and overall well-being.
The ABM approach is individualized, with each session tailored to the unique needs and goals of the individual. The method incorporates elements of the Feldenkrais Method, which emphasizes body awareness and movement re-education, as well as principles from neuroscience and developmental psychology.
ABM has been used to help individuals with a variety of conditions, including cerebral palsy, stroke, multiple sclerosis, chronic pain, and learning disabilities. It has also been used to improve athletic performance and to enhance overall well-being.
Ruti's classes help your body to be reorganized and allow for more fluid movement with fewer physical limitations and decreased muscle tension – resulting in an improved quality of life. Students can expect greater strength and flexibility as a result of class participation. The benefits translate directly into movements experienced everyday life, such as working, lifting objects safely, improvements in posture while sitting or standing and experiencing other forms of exercise with greater safety and effectiveness.
Through these mindful movements your awareness will rise and your brain will form new neural pathways, which are connections in the brain that are essential for breaking out of habitual movement patterns and forming new ones. These new brain pathways allow for the elimination of pain and discomfort – including chronic pain.
In her studio the classes are in small groups which supports a safe place for emotional support and a sense of community. The group classes are usually build in series of six classes each. If you have a busy schedule and you'd like to reduce back, neck, shoulders or joint pain,  join Ruti's online classes. They stress and improve your everyday activities, the way you sit, stand, walk, run, bend, stretch up to reach a shelf, turn and do your workout.
I look forward to every Wed. wondering what Ruti is going to do today. She does something different every week. Ruti has helped me with my balance and so much more. Love her!!
I met Ruti in a yoga class and learned she was a Feldenkrais practitioner. I've been curious about Feldenkrais is I began taking her classes offered through Zoom. Ruti's teaching is clear, precise and at a slow pace. This allows me to become aware of my body and clear patterns that are no longer benefiting me. It's like training my brain! I love Ruti's sense of humor, patience, story-telling and the way she cares about each student. Thank you, Ruti, for sharing your knowledge through teaching others!
Thank you so much for your three day Feldenkrais workshop on TMJ. I found it very helpful and would recommend it to anyone with TMJ.
It helped me be more aware on a daily basis of when I clench my jaw. Noticing the muscles were tight, I could then relax them.
This awareness is so important. I have back, hip, and foot pain so I rarely noticed when my jaw was clenched. I wear a night guard as a Dentist noticed I grind my teeth at night.
It also helped me realize that imagining doing a motion was beneficial without moving. That is something that I've heard you say in other Feldenkrais classes. It hadn't sunk in before this workshop.
I think you're a great teacher and I'm so glad to have found you! It's a silver lining of the COVID pandemic.
Hugs,

What is the Feldenkrais Method?
Gentle, mindful movement that brings new awareness and possibility into every aspect of your life

Who can use the Feldenkrais Method?
Anyone that would like to feel better and have more energy and vitality

How does Feldenkrais work?
By stimulating the brain to create new neural pathways that enable optimal movement and function
Ruti, thank you for a very beneficial workshop, participating in the TMJ workshop helped me reduce tension in my neck and shoulders and be more aware of my jaw and how I use it.
So grateful to have the opportunity to join Ruti's Feldenkrais class! I enjoy the classes and benefit greatly from Ruti's teaching! I learn a better quality of movement and my posture and flexibility are improved. My muscular tension is reduced and shoulders tensions are released. I also feel I have build up a better balance. I am sure I will continue to benefit from these wonderful classes. Thank you so much!!
Ruti has helped me in so many ways with my neck, shoulder, hip and back issues. I have mild scoliosis but also have issues from a bad neck injury.
She is so very caring and thoughtful. She picks the classes I've taken with such thoughtfulness for the best results. I've been able to make excellent progress in maintaining and re-educating my subconscious mind to move and rest in a much more effortless manner. I'm finding myself adjusting with small adjustments my posture in sitting and standing, finding my true center and relaxed balance.
I've also taken private classes with her hands using super gentle movements, that she uses to support my bodies path towards being pain free and supple. I'm so grateful to have found her!