Sessions
Feldenkrais Practitioner & Reiki Healer
A private Feldenkrais session is called "Functional Integration" and is specific to your individual needs.
In our practice, we use a special table (like a massage table) which you will lie fully clothed while you are guided through a series a of subtle movements. Depending on your specific needs, you might lie on your back, front or side depending on your limitations and the issues we are working to address. We often use specially designed props to help make you comfortable so you can relax and allow your body to experience a new process of learning to occur.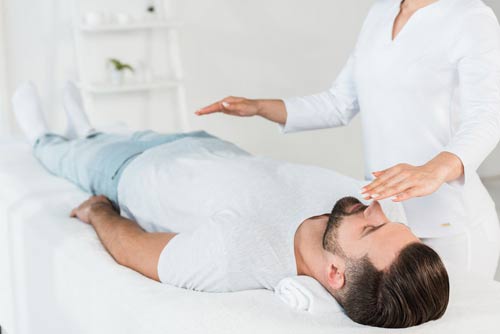 Ruti's warm and healing presence provides a safe and nurturing environment in which you experience your Feldenkrais session. Through gentle touch and manipulation, you will be moved gently to access your nervous system and provide your brain new information. Many of us have a tendency to hold emotions in our chest. When muscular tension is released in this area, emotions can often be released. When these emotions are released, their relief is experienced in more than just in the physical realm. People who have experienced trauma and abuse of all kinds often receive a tremendous sense of freedom after their session. During the session, there is often a layer of energy healing that takes place that allows for an emotional detox.
You will witness brain plasticity in action and you will feel immediate changes. The process will enable you to move past the habits that caused your pain and limitations. Because the session is a whole-body experience, the changes experienced are deeply integrated into the body.

What is the Feldenkrais Method?
Gentle, mindful movement that brings new awareness and possibility into every aspect of your life

Who can use the Feldenkrais Method?
Anyone that would like to feel better and have more energy and vitality

How does Feldenkrais work?
By stimulating the brain to create new neural pathways that enable optimal movement and function
Ruti, when I started Feldenkrais with you as an instructor my balance was a little off and had pain on my lower back and one of my feet was pointing inward. Now I can see and feel the difference! I should mention that my cognition is better too. Thank you for your wonderful class you are the best and I appreciate you very much.
Ruti Gorel has been working with me over the past few months as a private Feldenkrais practitioner. She is not only inspirational to listen to as an instructor, but I have experienced a great amount of improvement with areas in my body that I have struggled with over the years. Ruti is a thoughtful, intelligent, enthusiastic and kind instructor. She observes one's individual needs and makes sure that one is comfortable every step of the way. She has a keen eye and makes sure that you are tuned in.
She is a wonderful person and I feel very safe under her instruction. The results have proven to be excellent!
Ruti's Feldenkrais virtual classes have been a lifesaver for me, not only because of the pandemic but its' made me more aware of my inner self! I'm able to relax now more easily.